Last Updated on May 24, 2023
Drug tests are a fact of life these days and more and more, people are being tested using hair follicle drug tests to gain employment. In fact, these drug tests are now more commonly administered than any other type of test because of their accuracy and thorough detection range. You are also prone to have to face random drug testing at your employer and employers are now more interested in your habits of using drugs instead of just single uses. Even though hair tests are one of the most accurate types of drug test and can track your drug use from up to three months before, if you use the best detox products on the market, you can still successfully pass the test.
It is understandable for you to be very nervous when you are facing an upcoming drug test of any kind, but hair follicle drug tests can be especially daunting. Why? Because they can be downright hard to beat. They are not as easy to beat as say, a urine drug screen, because you cannot alter a hair test on the spot like you can a urine test. The possibility of failing the hair test can cause a lot of anxiety at the thought of having to face lots of negative events. To avoid a harmful outcome of failing the drug test, you should always be ready with what you need to pass.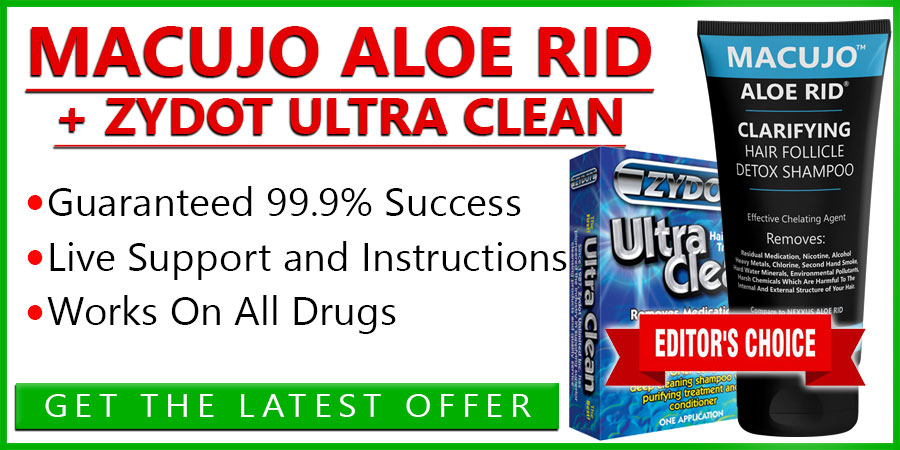 You also need to keep in mind that not all detoxification products and hair detox methods are created to actually help you pass. Many are marketed to help detox but will fall short and cause you to still fail. These false claims can make it tough to trust that anything you try will help you pass. You must watch out for these fake products and outdated methods that do not work on all types of drugs. This is why the below testimonials are so important.
The top of the line product available in the industry today is the Macujo aloe rid shampoo. This leading shampoo for hair detox is made specifically to deep clean the hair follicles inside and out. Pair this with the Mikes Macujo method and you will be set up for success to pass any test. Other "detox" shampoos only clean the outside of the hair shaft, which is why the will not help you pass a hair test.
This detox process has helped thousands of drug users beat hair follicle tests, which is proof that it works. Read on for more evidence of how this method to detox hair really works. Below are four real success stories from users that were able to pass their hair drug tests.
Name: Christine
Date: 10/01/2020
Drugs Used: Percocet
Success story: When I was ordered to get a hair follicle drug test, I panicked because I had taken some Percocet for pain. Not a lot, but I was still worried that it would show up on my hair test. I called "Mike" and explained my predicament, to which, he assured me, that I would be fine if I used "Mike's Macujo Method." He was ABSOLUTELY RIGHT!! Mike was amazing and he continued to reassure me, while I waited for the results. I'm sure that he got tired of my "freaking-out" calls (Lol); however, he was always patient. Just the fact that I was able to speak to him directly was so nice!! I passed my test because of "Mike's Macujo Method" and I am extremely grateful!!! Thanks Mike!!
Method used to cleanse hair: Mike's Macujo Method and Macujo Aloe Rid shampoo
Name: Lonnie
Date: 10/30/2021
Drugs Used: Marijuana, Ecstasy
Success story: If you are worried about passing that hair follicle test using this method, do not be! I did everything Mike told me to do, plus it even comes with instructions on what to do. Follow these instructions to a "T"!!! I was worrying I would not pass so I did about 15 washes spread out over a week or two period, even though Mike told me over the phone I only needed 5-6 (yes you can call Mike directly!) I'm a black male with very thick and curly hair. I was a heavy user of marijuana (about an eight a day for months) even took a few ecstasy pills. Do your washes and use zydot the day of the test. You can buy Macujo hair wash and Zydot together on mikes website (I recommend this), but Amazon has it if you need it delivered even faster! Mike helped me get the job I have wanted for months!! Thank you so much Mike!
Method used to cleanse hair: Mike's Macujo Method with Macujo Aloe Rid shampoo and Zydot Ultra Clean shampoo
Name: Miles
Date: 1/15/2022
Drugs Used: Meth
Success story: I used meth 3 weeks prior to taking my drug test, and 1 week prior to testing multiple times, and then found out I had to take a hair follicle test. Thankfully, I came back negative. I did the Mikes Macujo method 3 times and did not use bleach or anything more. Thank you so much. I would have had a lot of devastating series of events unfold without this method. I very highly recommend this method. It was recommended to me by a daily user who passed her tests every time, so I felt confident it could work for me too.
Method used to cleanse hair: Mike's Macujo Method with the Macujo aloe rid shampoo
Name: Sarah
Date: 12/2/2022
Drugs Used: Marijuana gummies
Success story: It works!! I take 9 gummies to help me sleep at night. It's legal here but employers still don't agree with you taking it. I got wind that a drug test was coming up so I ordered this product and followed the method provided. Two days later they did the test! I was super stressed! I didn't think I was going to pass but I did!! I will recommend this product to everyone! So thankful!!
Method used to cleanse hair: Mike's Macujo Method, Macujo aloe rid shampoo
Name: Steve
Date: 7/15/2021
Drugs Used: Meth/Ice
Success story: I was a daily user of Meth/Ice for several years and used the Mike Macujo method for a hair test. What I can say is make sure you FOLLOW THE DIRECTIONS! If you follow them like you're supposed to, it DOES work! It did not wash out overnight though and I had to do multiple macujo method washes. I only had eight days' notice of my drug test. I did two washes every day for a week and one wash the morning of my test. I passed with 0.00% showing up!
Method used to cleanse hair: Macujo Aloe rid, Mikes Macujo Method
Name: Christine
Date: 4/3/2020
Drugs Used: Alcohol
Success story: I used this detox shampoo for the mike's macujo method to pass a hair test AND I PASSED. This is 100% effective and it's a great product that does exactly what it says it will. Call Mike with any questions because he is the best!!
Method used to cleanse hair: Mike's Macujo Method, Macujo Aloe Rid shampoo
Name: Charles
Date: 1/12/2022
Drugs Used: Cocaine
Success story: This is the best detox shampoo, period. I passed a hair test finally with being a daily user of cocaine. I failed every other drug test I had without this product and I was worried I would fail again. Mike reassured me that I could pass even using coke heavily, so I trusted him and followed his recommendations. I never would have passed had it not been for Mike and his method.
Method used to cleanse hair: Mikes Macujo method with Macujo Aloe Rid
Name: A. J.
Date: 11/11/2022
Drugs Used: Adderall and Weed
Success story: When I called Mike, he told me that I needed to do 10 washes in order to pass the hair test. I used Adderall and weed for a few days. I passed my drug test with no problem using the black bottle of Macujo Aloe rid shampoo with the mike Macujo method.
Method used to cleanse hair: Macujo Aloe rid, Mike's Macujo
One common factor in every success story is the use of Macujo aloe rid and The Mike's macujo method. The combination of this best detox shampoo and mikes macujo method is the only way to guarantee that hair follicles will be completely clean from drugs. No matter what kind of drugs or alcohol you use or if you use lightly or very heavily, this method is made to work for everyone. It also works for all hair types as well. Macujo aloe rid shampoo works to get deep into the inner layers of the hair shaft to make sure the toxins are removed totally.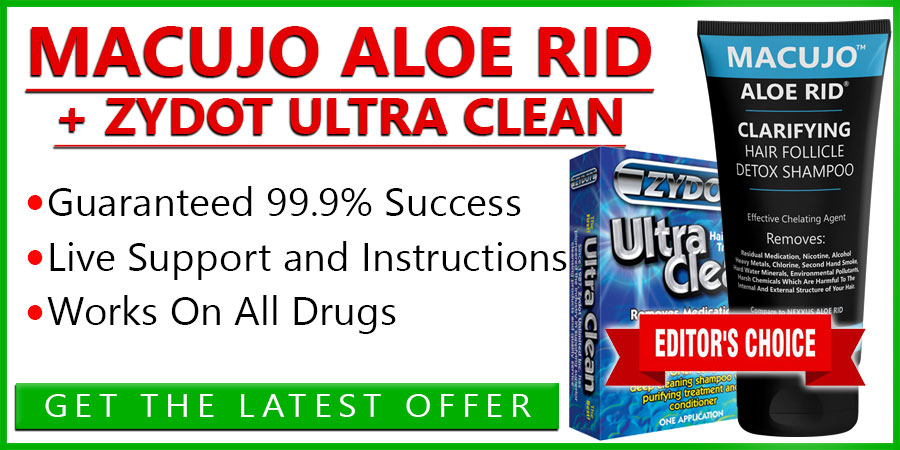 From these success stories, you can see that this detox for hair method truly does work for various drug types and levels of drug use. This is why the Macujo aloe rid and mikes Macujo method are different from what else is out there. It is a detox that comes with a guarantee to work or your money back because it has been so thoughtfully developed. Plus, the Macujo aloe rid was formulated by experts with over 20 years of experience, so you can trust that it was made with your success in mind.
Another great perk of using mikes macujo method and Macujo aloe rid is that the detox process can be tailored for your specific situation. It can help everyone, but that does not mean that everyone needs the same amount of macujo method washes.  Because of this, along with each of your purchases, you will have full access to mikes macujo customer service through live phone support from Mike himself. As you read above, this is incredibly helpful. Mike is an expert in the business and can help ease your concerns and give you the information you need to make sure that you pass your hair follicle drug test. Instructional videos are also available online for you to use as well to help you through the process.
If you want to eliminate the risk of failing your hair drug test, you must use Mike's Macujo Method and the Macujo aloe rid detox shampoo as directed. Make sure that you take the time to follow the process as it is recommended for you. This is critical if you want to help ensure that you get a pass. You may be tempted to shorten the process or skip through some of the steps, but take your time and use it as you are instructed. It will be worth it. You will not have to worry that drugs will still show up in your hair as long as you are prepared with this product and detox method. Whether you have used drugs occasionally or use them several times a day, you can still overcome hair drug test scenarios. Take it from the success stories above; you CAN pass a hair follicle test even with just a few days' notice regardless of your situation!