Best Hair Detox Shampoo For Drug Test
Are you looking to get a new job, but your employer requires you to take a drug test?
If this is you, then you are potentially in big trouble! You need to get rid of all trace of drugs from your hair. If you don't and you are a user, you will fail the drug test.
The residue of drugs can remain in your hair for up to 90 days after use. However, there is a solution and method that can enable you to pass the test. A powerful drug detox shampoo along with the Mike's Macujo Method Washes can strip all trace of drug from your hair.
Macujo Aloe Rid Shampoo With Zydot Ultra Clean – Our 5 Star Recommended Hair Detox Shampo
Purchase our Macujo Aloe Rid Shampoo today before 4:30PM EST and get it FedEx delivered to your door next day for fast elimination of drug trace in your hair so you can pass your hair follicle drug test.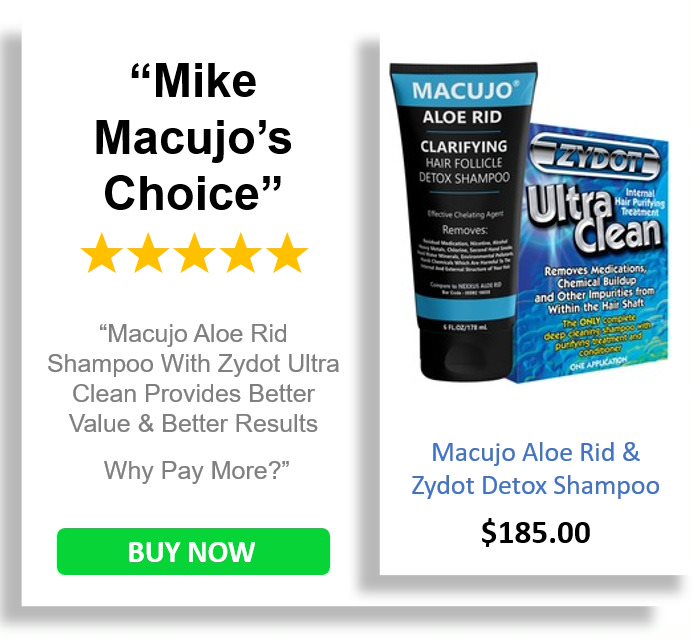 The shampoo we provide is not like other "so called" detox shampoos. We provide the Only effective Macujo Aloe Rid Shampoo through Macujo.com
Our Macujo Aloe Rid Shampoo is proven to achieve a 99.9% success rate for passing a hair drug test when used with the Mike's Macujo Method.
When your new job is on the line, you don't want just any detox shampoo for a hair drug test. Low quality and fake products can put your career in jeopardy, and it's simply not worth risking it.
Only the best detox shampoo to pass a hair drug test is reliable enough to trust. There are many other methods you might find online in an attempt to strip your hair follicles of any offending substances.
Some people swear by these homemade methods, but unless you're willing to take a big gamble and risk your job, it's better to go with an extensively tested product that is proven to work and is backed by hundreds of testimonials to the fact.
If you weren't expecting a follicle test, you don't have a lot of time to waste. Most employers expect you to complete the test shortly after receiving notice (in many cases, it's within 48 hours). While we do recommend picking up a bottle of the best detox shampoo for drug tests when you apply for a job, that may not always be an option. Employers may also request a follicle test in case of an on-site injury or accident.
When you aren't expecting it, you need to find the best hair detox shampoo for drug test right away - and that's what we're here to help with. We'll go over how these tests work, what to expect, and show you the best option available today.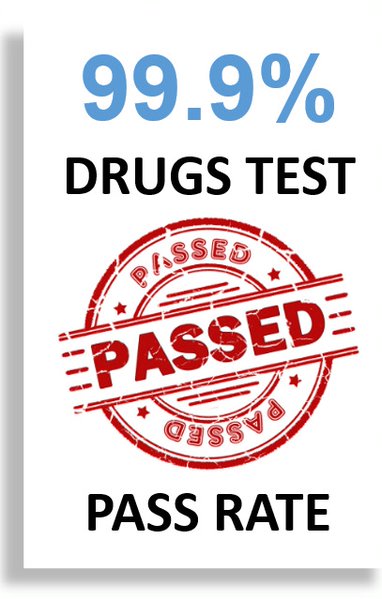 Testimonials
Extremely pleased.
Used the product follow the steps completely as described and after two washes tested negative on a 10-panel hair test.
It definitely worked for me and after trying all those other garbage imitators on the market.
Appreciate you Mike!!
I was desperate to start a new career and get away from my old dead-end job to change my life and needed to cleanse my hair follicle.
I found Mike's Macujo Method which is the is the only one of its kind and works as long as you follow the directions.
Thanks, Mike, for your help and consultation!!
Hair Follicle Detox Shampoo - What Does It Do?
Special chemicals are added to your sample which provide an indication if drug trace is present.
For a hair test, there are two steps, although not everyone's sample goes through both. The initial test is called the ELISA. When this shows a positive result, the sample goes onto the next step, the GC-MS.
The main purpose of the GC-MS is to verify a true positive result and rule out any potential errors in the first positive result.
Next, let's look at what the shampoo itself does to your hair, that enables your sample to show up clean.
What Does Detox Shampoo Do To Your Hair?
Our hair follicle test shampoo removes all traces of disallowed substances within the cuticle and deep inner cortex of your hair when used along with the Mike's Macujo Method Washes. (full instructions are included with purchase of the shampoo)
Our shampoo is the only out there that is powerful enough to open the inner cortex of your hair enabling removal of the hardest substances at extremely high levels, making it ideal for the most intense substance users.
As you do your Mike Macujo Washes with the Macujo Detox Shampoo you will lower your toxin levels until virtually undetectable.
It is important to remember that hair follicle tests can detect substance use from up to 90 days previous use. For this reason, your detox shampoo needs to clean hairs deep into the cortex.
Best Shampoo To Pass Hair Follicle Drug Test - Reviews
As we promised, we're here to direct you to the best detox shampoo for a hair follicle test. In this case, there is only one brand manufactured that stands out when compared to any other shampoo or supposedly "similar shampoos" that might attempt to have a similar name as ours. Below is the best hair follicle drug test. Look at our shampoo reviews, so you know it is right for you.
Macujo Aloe Rid and Zydot Detox Shampoo
The Macujo Aloe Rid and Zydot Detox Shampoo combination brings together two of the most popular follicle detox products.
In order to pass your hair drug test, it is essential that you follow the Mike Macujo Method every time you use the shampoo to achieve a totally drug free hair result so that you can pass your upcoming test.
The Zydot Ultra Clean wash should be used ONLY on the day of your test to provide an additional boost providing external hair cleansing that can make the difference to passing or failing your test due to possible second hand smoke contamination.
This shampoo combo comes in a larger 6 oz bottle, providing more shampoo and detox power than ever before.
Note: The Mike Macujo Method instructions are provided along with your purchase.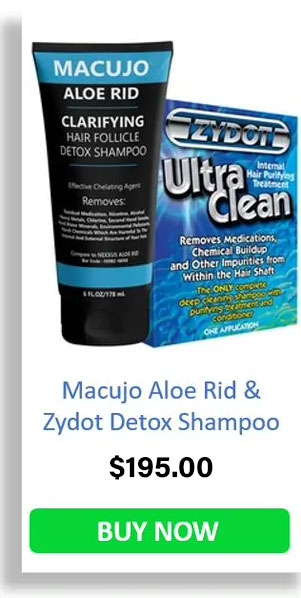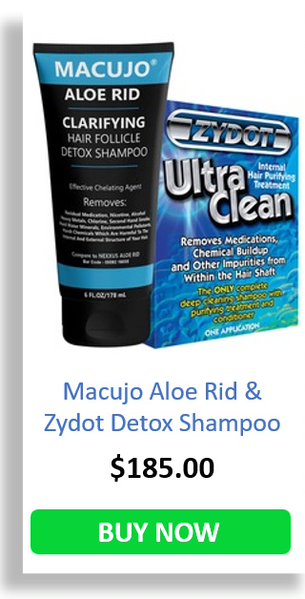 Home Hair Follicle Test Kit
This home laboratory hair follicle drug test kit is a comprehensive and accurate test product that analyses your hair to detect for the presence of up to 18 drugs.
This kit is highly reliable to provide accurate results. If there is trace substance in your hair, this kit will detect it and identify a history of drugs use for the past 90 days.
This test kit will test for the following drugs: -
Ecstasy (MDMA), 3,4-Methylenedioxyamphetamine (MDA), Methamphetamine (METH), Oxycodone Phencyclidine (PCP), Amphetamine (AMP), Codeine, Cocaethylene, Opiates (OPI), Marijuana (THC), Norcocaine, Heroine (6-MAM), Benzoylecgonine, Tetrahydrocannabinolic acid (THCA), Cocaine (COC), Hydrocodone, Oxymorphone, 3,4-Methylenedioxy-N-ethylamphetamine (MDEA), Hydromorphone, Morphine (MOR).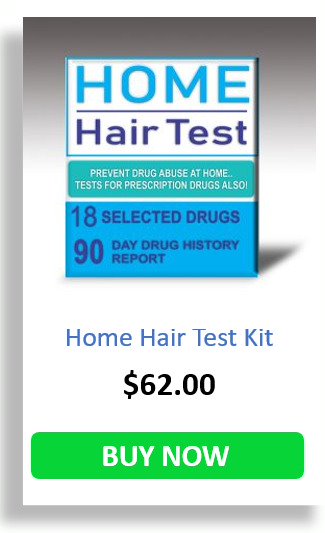 Conclusion
We have been developing and perfecting our Macujo drug detox shampoo for years. The results and success achieved by our customers when using the shampoo and following our method, outperforms any other shampoo hands down.
When your job, family or future is on the line, you can't afford to gamble, order your shampoo today. If in doubt which one to choose, go for the Only Effective Macujo Aloe Rid Old Formula Detox Shampoo. This shampoo offers best value, and you can't go wrong with it.
Order your shampoo today by 4:30PM EST. and get it FedEx delivered Next Day.